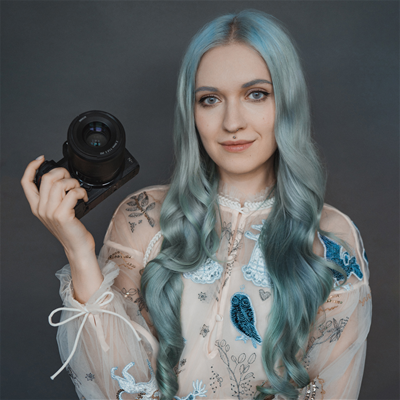 Anya Anti is a New York-based internationally published and award-winning photo artist who specializes in on-location fine art and conceptual portraiture. Originally from Ukraine, she moved to the USA in 2014. Anya's been into photography since 2010 and as a self-taught, she gained all her knowledge and inspiration through social media and online photography communities. A year-and-a-half later, she started creating fairy surrealistic female portraits, which became her preferable genre and a hallmark of her work.
Anya strives to create beyond traditional portraiture by constructing dreamlike sets that rely on beauty, symbolism, metaphors, and associations to convey fantasy, whimsy, and intangible ideas. For her photography is the perfect medium of self-expression through imaginative storytelling. She always uses photography as a way of collecting material to create something that is not possible to capture. Installations, costumes and Photoshop manipulation help Anya embody her fantasies into a finished piece of art.
As a workshop instructor and speaker, Anya has already taught in different countries, spoke for different brands such as Broncolor, Adobe, Nikon, and on different platforms such as Photo Plus Expo, WPPI and Adobe MAX. She has showcased her work at exhibitions and been published all around the globe. In 2015 she was a lucky winner of Broncolor GenNEXT sponsorship and took 2nd place at Fine Art Photography Awards Professional Fine Art category. In 2017 she took 3d place in IPA People Self-portrait category and was selected for IPA Best of Show exhibition in New York. In 2019 she took 1st place in WPPI First Half competition Creative division.
2/28/2022 12:30 PM