We are so excited to offer Portfolio Reviews by Rangefinder/WPPI 2020
Sign up below, then swing by for your Portfolio Review in booth #1317 with your mobile device or print portfolio during the three-day event to receive a FREE one-on-one 15-minute review with a notable photographer. You will also have the opportunity to discuss visual trends, shooting techniques and post-production. BYO Photography for review.
PLEASE NOTE: Portfolio Reviews are limited to attendees with a WPPI Conference Platform Pass. Attendees may sign up for a maximum of (1) appointment time. 
WALK-IN APPOINTMENTS MAY BE POSSIBLE – PLEASE CHECK AT THE IMAGE REVIEWS CHECK-IN COUNTER (BOOTH #1317) FOR AVAILABILITY.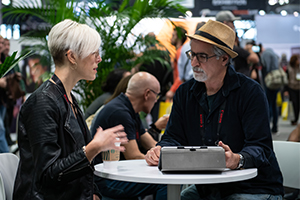 Who are the reviewers?
They are WPPI speakers, judges or Rangefinder editors. There will also be filmmaking and video instructors who will be part of the review process.
Am I able to select a specific photographer/videographer reviewer who has experience in my genre of photography?
Yes, if that reviewer is available. All reviewers will be able to touch on important critique points such as lighting, posing and post-processing.
How do I present my photography?
You are welcome to bring a computer, a personal mobile device (tablet or phone), a portfolio/book or individual images.
How many images can I show?
You are welcome to present as many images as you'd like during a 15-minute time-slot.
Where are the reviews taking place?
Portfolio Reviews are taking place in booth #1317 of the WPPI trade show floor in Bayside C, Mandalay Bay Convention Center. 
Where and when do I check-in?
Please check-in for your review at the counter located in booth #1317. Plan to arrive and check-in 5-10 minutes prior to your scheduled appointment.
Rocco Ancora
Michael Anthony
Marc Anthony
Cynthia Batista
Jacquelynn Buck
David Buck
Sherry Buck
Alison Carlino
Lisa Carney
Jeff Carpenter
Sandra Coan
Anesha Collins
Ben Connolly
Tony Corbell
Danny Dong
Joe Edelman
Sarah Ferrara
Karaminder Ghuman
John Gress
Cami Grudzinski
David Hakamaki
Ben Hartley
Raquita Henderson
Erin Hernandez-Reisner
Derrel Ho-Shing
Gary Hughes
William Innes
Sanjay Jogia
Gurvir Johal
Candice KausHagen
Kenny Kim
Vinny LaBella
Christian Lalonde
Kesha Lambert
Sean Lara
Sean LeBlanc
Shawn Lee
Janine Licare
Natalie Licini
Meg Loeks
Petronella Lugemwa
Tatiana Lumiere
George Mitchell
Nacho Mora
Cristin More
Dave Moss
James Musselwhite
Michael Novo
Nik Pekredis
Booray Perry
Libby Peterson
Collin Pierson
Jared Platt
Brandon Rice
Maggie Robinson
Tony Ryan
Joseph Victor Stefanchik
Kiamarie Stone
Brooke Summer
Aries Tao
Jacqueline Tobin
Johnson Wee
Ning Wong
Audrey Woulard
Connect with thousands of attendees and vendors!
Subscribe to stay updated on what's happening.